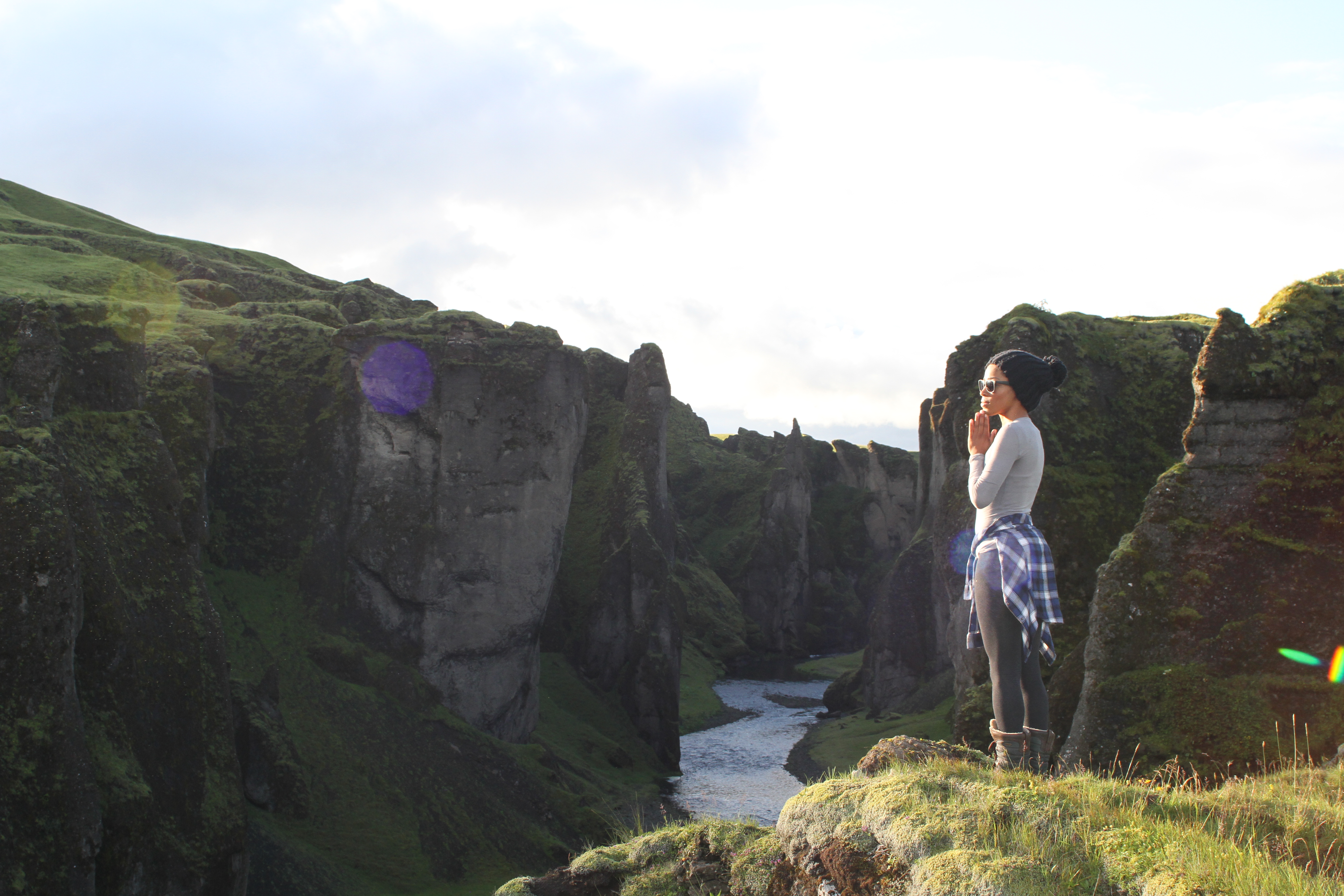 Can't Stay Put™ x @Absolute_Iceland. Part 2
By day 2 of the road trip, which was day 5 of me being in Iceland, It finally sunk in that I was actually there. Next up was Vik, Iceland, which was about a 3hr drive from where we were. From the way Arní described the drive there, I knew that the actual journey was going to be just as good as the destination.
First up. Glúfrabúi waterfall.
We decided to get a view from the top.
I can't even explain how happy I was. I felt like a kid again. I use to explore the park on my street growing up and I would literally stay for hours. (Adams Park. S/O to Southwest Atlanta!)
Iceland has so many waterfalls it's really hard to keep count. It's collection of waterfalls rivals any country in sheer power and raw beauty.
On to the next one.
Seljalandsfoss Waterfall and all it's power is simply amazing. Seljalandsfoss is a unique waterfall in the river Seljalandsá, about 30km west from Skógar. It is 60 meters high with a foot path behind it at the bottom of the cliff. It is the only waterfall known of its kind, where it is possible to walk behind it.
Truly an experience.
View from the passenger seat.
So wait…. Do goblins and trolls exist? Doesn't the scenery remind you of some folk story.
What's a road trip without pit stops.
We spent a lot of the day in the car so finally getting to Dyrhólaey beach was the icing on the cake.
Neighboring Dyrhólaey beach is Reynisfjara beach. Reynisfjara beach is like no other, with black sands and mesmerizing rock formations. Basalt columns rise up from the shore looking like man made structures but are really the work of Mother Nature.
OK. So no it wasn't beach weather BUT I was in Iceland at the beach! Why not? And yes I actually got in the water. I didn't put the bathing suit on just for a photo opportunity.


I'm not gon' front. That water. Was cold as hell.
Day 3. "Ice. Ice. Baby."
We hit the road to see the glaciers.
Backbends are my signature. Everywhere I go, I always hit one.
Kirkjugólf.
We stopped at Foss á Síðu to feed horses. Y'all know nobody likes eating the ends of the bread. No, that is not Arní. It's some other random photographer.
Getting closer!
The picture doesn't do it justice nor show the sheer magnitude of the Svínfellsjökull glacier, which is actually a part of Vatnajökull, the biggest glacier in Europe. If you take a closer look there is a line of people starting out a hike in the bottom right of the picture. That should give you an idea of how HUGE the glacier is.
We headed to the Fjallsálón glacier next.

Simply Amazing. Never in my lifetime did I think I would see glaciers.
Excuse my hair and edges. But I have a piece of a glacier in my hand that is hundreds of years old. Seriously, something out of a science textbook. And the crazy thing was, we had ANOTHER glacier to see.
Definitely a plug for my Alma Mater, Howard University! I love my HU! That may very well be the place where I grew the gonads to do what I do.
Back on the road! What a view! (I was in the process of clicking my heels.)
On our way back to Vik for the night we found a dope farm to explore. We of course asked the farmer first. We promised not to tell the location out of privacy and respect.
One time for my photographer! Arní!
As if we hadn't seen enough. The day was STILL not over! Next up was the Fjarðárlón canyon.
I am a bit of a thrill-seeker. The width of that part of the mountain was not very wide at all but I wanted to get to the end so I scooted my way there to eventually stand up. My parents are probably cringing looking at this picture.
After the canyon we drove road nr.214 to the Þakgil camping area, and of course made stops along the way.
I definitely lost track of time. I think it was 8 or 9 at night when this picture was taken. That's the dope thing about traveling to Iceland in the summer. It's like having two days of sunlight in one day. 
This is a set from Game of Thrones. Crazy. I've never watched the show but people swear by it. Now I have to watch it.
Man, what a day. A true blessing.
Day 4. "This was real"
My last day in Iceland. I left for JFK the following morning. On the last day, I was overwhelmingly emotional because. Because I did it.  When you get to the end of an experience like this reflection can be the most awe-inspiring part. It was a memory of something only God could have created. Unbelievable. Simply magical.
OK. Back to the last day.
We made a brief stop at the beach in Vik before starting our drive back to Reykjavik.
Arní saved the Skógafoss waterfall for the drive back. And for good reason! So Amazzzzzzzing!
Exhilarating!
What better way to end a road trip than a dip in a warm pool in the middle of the mountains.
Seljavallalaug pool was built in 1923. Thanks to the country's geothermal energy, virtually every town in Iceland has naturally heated pools. We hiked a mile or less to this one. There are actual natural hot springs that are literally in the middle of the ground and then there are geothermal pools, which are cemented man-made structures but have natural hot water flowing into them. Most are minimally treated to keep it as pure as possible.
I am so incredibly grateful for my experience in Iceland. Hands down the MOST amazing place I've ever been. My collaboration with Arní was beyond my wildest dreams. Always nice to work with someone who gets it. Who really gets what you're trying to show and depict through your photos. That type of synergy doesn't come around too often. So when it does, you must show gratitude. Like I said before, this collaboration was destiny. I only take credit for having the balls to reach out and ask. God is responsible for everything else.